Large format, Large formats, ulf, ULF, Wisner, Wisner camera, Wisner cameras, Wisner large format camera, Wisner large format cameras, Large format camera, Large format cameras, Ultra large format, Ultra large formats, Wood camera, Wooden camera, Ultra large format camera, Ultra large format cameras, Panoramic, Sheet film camera, Sheet film cameras, Panoramas, Panorama, Panoramic cameras, Panoramic camera, Emile de Leon, Emile, Emile's ultra large format camera  company, Emile's large format camera company, Emile's cameras, Emile's camera company, 12x20, 11x14, 7x17, 16x20, 20x24, 4x5, 5x7, 8x10, Film holders, Film holder, Filmholder, filmholders,  LF, ULF,  UV light, UV light sources, Platinum, Palladium, Sheet film, sheet films, Lens, Lenses, shutters,  Shutters, shutter, lens board, lens boards, copal, copal 1, copal 0, copal 3, Camera lens, Camera lenses

Emile de Leon's Ultra Large Format Camera Company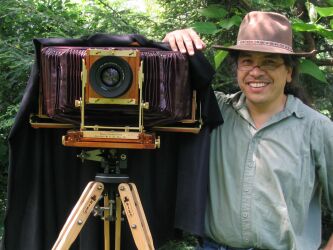 For those who want the most detail in their negatives and prefer the use of a beautiful wooden camera we offer Wisner/Deardorff/Lotus and Shen-Hao, and Ebony cameras for all your large format needs.

There are very few venues that we aware of in the US or for that matter on the planet that stock new Ultra Large Format Cameras (11 x 14 and up) as a matter of course, as these are usually special order only items. We are eliminating the long waiting periods of up to two years for the customer by pre-ordering and having brand new Ultra Large Format Cameras in stock or in close order at all times.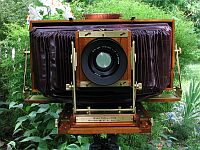 Let us know what your needs are and we will do our best to get you the right camera for the job. We can also take special orders from 4x5 to 20x24 but there will of course be a waiting period for all custom cameras not in stock.  The usual waiting times for ULF custom orders are from one to two years  (earlier delivery is possible) and we personally check each camera upon arrival to make sure everything works correctly and is up to speed.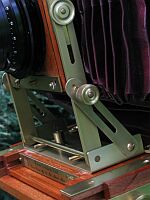 All in stock Wisner Ultra Large Format cameras are built and ordered by us to accept the S&S  wooden film holders facilitating a very fast delivery time for this item, usually in two weeks or less. S&S filmholders are available in all sizes with the camera purchase. All in stock Ultra Large Format cameras in sizes 7 x 17/11 x 14 and up will have rear swing and rear geared tilt standard as well as all the other normal Technical Field movements on the front and back. Some  will also have rear rise. Geared rear tilt is a great feature of the Wisner ULF cameras making your life much easier by maintaining the focus on the ground glass while tilting by increment.

  For those who want lighter weight cameras, many of the extra movements such as rear geared tilt and rear swing can be eliminated to save weight. All new ULF cameras will now have a beautiful and supple black sheepskin  bellows, increasing their beauty and functionality. Cameras may be ordered in Mahogany or Cherry, with Brass or Aluminum hardware (to save weight) and in any configuration you can imagine. It is recommended for 12 x 20 and up to order in Mahogany as this wood is recommended for the bigger ULF size cameras.

Our basic company philosophy is this:

  Being a ULF photographer myself (12x20/7x17) and a retail gift store owner for the past eleven years I have decided that for those photographers who don't want to use an older Korona or F&S ULF camera there should be an option to purchase a new camera without the excessively long waiting times. Since I live very close to the Wisner factory and use their cameras personally with great satisfaction, I decided to take the jump and become a retailer of Wisner cameras for those photographers who might be interested, especially with the increasing popularity of ULF. I intend to stock and sell these wonderful ULF cameras to all interested people who want a beautiful wood, brass, and leather machine capable of the highest results at the best price.

If you have any questions about the Wisner as well as Ries tripods and S&S wooden film holders or would like to place an order please contact me:

Phone (860) 347-3220

Fax 860-343-7583

                                Thank you,

                                  Emile de Leon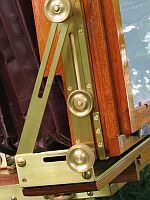 Page last updated on: May 16, 2008
Site Menu:

Emile's Photography Coming soon!

B&W

Color

Historical Images

Abstract Collection Cemeteries 35mm...

Front tilt / rise / swing.

Rear geared tilt / rise / swing.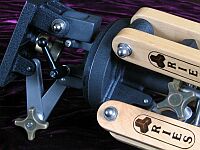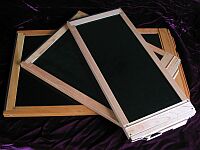 Ries Tripods. The best wooden tripods for ULF.

All styles and models available.





S&S wooden film holders available in all sizes. Made here in America. Call for prices on unusual or custom sizes. S&S is now featuring double light traps and are available in either Cherry or Walnut in either the S&S specifications or the AWB specs.

Call for prices on unusual or custom sizes.

Cherry:

4x10- $230.00 ea.

5x12- $275.00 ea.

7x11- $265.00 ea.

11x14- $360.00 ea.

7x17-$365.00 ea.

8x20-$375.00 ea.

12x20-$400.00 ea.

14x17- $410.00 ea.

20x24-$510.00 ea.

Walnut:

7x17- $385.00

12x20- $410.00

The "Fine print" …

1. All returns will be charged 10% of the total price of the item + all shipping costs when the item is returned in new/unused condition. If the item has usage marks then it is not returnable. Employing swing/shift movements and tripods on Wisner cameras create light marks on the wood  finish so don't use these if you  need to return the item.

2.There will be an 5% extra charge for Paypal or MC/Visa.

3. USPS or bank money orders are accepted and will save you $$$.

4. There is a lifetime guarantee on this camera from the Wisner manufacturing company against defects.

*Note* All prices for all camera brands/types subject to change without notice.